Christmas Neon Signs
— Get in the Holiday Spirit with Colorful Christmas Neon Signs
Looking for a unique way to add some holiday sparkle to your home decor? Look no further than our Christmas neon signs! Whether you're decking the halls or looking for a unique gift, these signs are the perfect way to spread some holiday cheer. With energy-efficient LED lighting and easy installation, these signs are perfect for any space.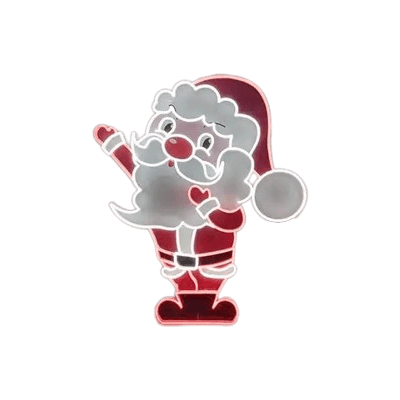 Christmas Neon Signs Product Description
The first Christmas neon sign is believed to have originated in the United States during the 1920s. The popularity of neon signs increased during the 1930s and 1940s, and soon Christmas neon signs became a common feature of holiday displays in storefronts, restaurants, and other businesses. The bright and colorful lights added a festive touch to the holiday season and helped to attract customers.
Today, Christmas neon signs are still a popular way to decorate for the holidays. With advances in LED lighting technology, neon signs have become more energy-efficient and affordable than ever before, making it easier for individuals and businesses to add some holiday cheer to their decor.
Make your holiday season merry and bright with our Christmas neon signs! These vibrant and festive signs use high-quality LED lighting technology to create a dazzling display that will light up any room. From classic designs to modern twists, we offer a wide range of options to fit any style or taste.
Crafted with durable materials, our Christmas neon signs are built to last and can be hung on a wall, displayed on a shelf, or used as a unique centerpiece for your holiday table. With easy installation and energy-efficient LED lighting, these signs are a fun and unique way to add some holiday cheer to your home.
Our Christmas neon signs also make excellent gifts for family and friends who love to decorate for the holidays. Whether you choose a traditional red and green design or opt for something more playful and colorful, these signs are sure to bring a smile to anyone's face.
Attract attention and spread joy with our stunning Christmas neon signs. Make your home a festive wonderland this holiday season and experience the magic of Christmas with our beautiful neon signs.
Quanzhou BgNeon Industrial Co., Ltd. is one of the largest manufacturers and exporters of LED neon signs in China. We are committed to the design, development, and production of LED neon signs. Our products are of high quality, low price, short lead time, energy-saving, and environmentally friendly. We have no minimum order quantity and can produce a set for you.

Professional Team
With over 10 years of experience in the LED neon sign industry, it's no surprise that our entire team is highly skilled and talented. Learn more

No Minimum Order Quantity
BgNeon is flexible in production and can meet your needs for ordering different quantities. We can even customize a set for you.

Strict Quality Control
We have a strict quality control process to ensure that the neon signs delivered to our customers are flawless. Learn more

Customization Capability
Our professional designer offers you the best advice, making your sgn always the best for your market, it will give you a strong edge over your competitors. OEM & ODM orders are welcomed. Learn more

Fast Lead Time
Lead time is 2-3 working days, and we also provide comprehensive online technical support and customer service.

100% On-Time S&E Guarantee
We guarantee 100% on-time delivery. So far, we have never had a case of late delivery.

Factory Direct Pricing
We guarantee affordable prices and the highest quality among all manufacturers.

100% ECO Friendly
All of our LED neon signs are not harmful to the environment.

1-Year Warranty
Each product comes with an extraordinary 1-year warranty.
How did Christmas originate?
Christmas is a Christian holiday that celebrates the birth of Jesus Christ. Its origin can be traced back to the early days of Christianity when it was established as a religious holiday to commemorate the birth of Jesus.
The exact date of Jesus' birth is not known, and it wasn't until the 4th century AD that December 25th was officially recognized as the date to celebrate the birth of Christ. Some scholars believe that this date was chosen to coincide with pagan winter solstice celebrations, which were popular in many parts of the world at the time.
Over time, Christmas has become a widely celebrated holiday around the world, with both religious and secular traditions. Today, it is a time for families to gather, exchange gifts, and enjoy festive decorations and food. Despite its Christian origins, Christmas has become a cultural phenomenon that is celebrated by people of all faiths and backgrounds.
Are the neon signs safe to use?
Yes, our neon signs are designed with safety in mind. The LED lights are cool to the touch and do not emit heat, making them safe to use in any room of your home.
How long do the neon signs last?
Our neon signs are designed to last up to 50,000 hours, ensuring that they will light up your holiday season for years to come.
Are the signs easy to install?
Yes, our neon signs come with pre-drilled holes for easy hanging. You can use nails or screws to secure the sign to the wall or use adhesive strips for a more temporary display.
Can I customize the colors and design of my Christmas neon sign?
We offer a wide range of designs and colors to choose from and accept OEM orders. Learn more about our OEM
Can I dim the lights on my neon sign?
Yes, we offer a dimmer option for an additional cost. Please contact our sales team to add this feature to your order.
How do I clean my neon sign?
To clean your neon sign, use a soft, dry cloth to wipe away any dust or debris. Avoid using cleaning solutions or water, as this may damage the sign.
What is the size of the neon signs?
Our neon signs can be made to any size you want and it's fully customizable.