Christmas Neon Signs
— Get in the Holiday Spirit with Colorful Christmas Neon Signs
In search of an original approach to incorporate some festive radiance to your household embellishments? Your quest concludes with our Christmas neon signs! Whether you are adorning the interior or searching for an exceptional present, these signs are the ultimate medium to disseminate holiday merriment. Possessing energy-saving LED illumination and convenient installation, these signs are ideal for any area.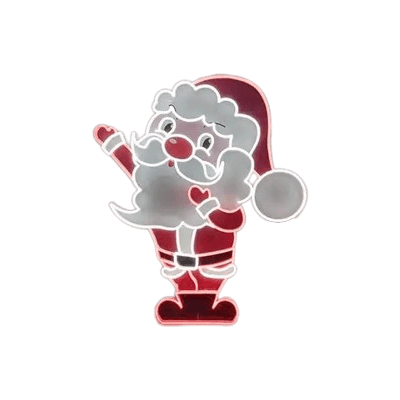 Christmas Neon Signs Product Description
During the 1920s, it is believed that the first Christmas neon sign was created in the United States. During the epoch spanning the 1930s and 1940s, an observable escalation in the abundance of neon signs was witnessed. As a result, Christmas neon signs became a common feature of holiday displays in storefronts, restaurants, and other businesses. The utilization of bright and colorful lights added a festive touch to the holiday season, and also served as an effective means of attracting customers.
In contemporary times, Christmas neon signs still remain a popular method of holiday decoration. Owing to the progressions in LED lighting technology, neon signs have become markedly more energy-efficient and economically accessible than ever before. As such, individuals and businesses alike can easily and affordably incorporate holiday cheer into their decor.
Elevate the merriment and radiance of the holiday season with our Christmas neon signs! These vivid and celebratory signs utilize state-of-the-art LED lighting technology to produce a stunning spectacle that will illuminate any space. Our assortment comprises an extensive range of options, encompassing classic designs and contemporary variations, catering to diverse preferences and styles.
Our Christmas neon signs are fashioned from robust materials, ensuring longevity and resilience, and can be affixed to a wall, placed on a shelf, or employed as a distinctive centerpiece for your holiday table. With effortless installation and energy-efficient LED lighting, these signs proffer a delightful and exclusive means of instilling festive exuberance in your abode.
Our Christmas neon signs are ideal presents for friends and family members who are fond of adorning their dwellings during the festive period. Whether one opts for a conventional red and green motif or chooses to go for something more whimsical and vibrant, these signs are guaranteed to elicit a cheerful response from anyone who beholds them.
Quanzhou BgNeon Industrial Co., Ltd. is one of the largest manufacturers and exporters of LED neon signs in China. Our commitment lies in the creation, advancement, and manufacture of LED neon signs. Our merchandise boasts superior quality, affordability, prompt delivery, energy efficiency, and eco-friendliness. We have no minimum order quantity and can produce a set for you.

Professional Team
With over 10 years of experience in the LED neon sign industry, it's no surprise that our entire team is highly skilled and talented. Learn more

No Minimum Order Quantity
BgNeon is flexible in production and can meet your needs for ordering different quantities. We can even customize a set for you.

Strict Quality Control
We have a strict quality control process to ensure that the neon signs delivered to our customers are flawless. Learn more

Customization Capability
Our professional designer offers you the best advice, making your sgn always the best for your market, it will give you a strong edge over your competitors. OEM & ODM orders are welcomed. Learn more

Fast Lead Time
Lead time is 2-3 working days, and we also provide comprehensive online technical support and customer service.

100% On-Time S&E Guarantee
We guarantee 100% on-time delivery. So far, we have never had a case of late delivery.

Factory Direct Pricing
We guarantee affordable prices and the highest quality among all manufacturers.

100% ECO Friendly
All of our LED neon signs are not harmful to the environment.

1-Year Warranty
Each product comes with an extraordinary 1-year warranty.
How did Christmas originate?
The celebration of Christmas is a Christian holiday that venerates the nativity of Jesus Christ. The inception of this tradition can be perceived during the nascent period of Christianity, wherein it was instituted as a hallowed convention to extol the birth of Jesus.
The precise date of the nativity of Jesus Christ remains undetermined with certainty. The recognition of December 25th as the prescribed date for observing the birth of Christ was authorized only with the emergence of the fourth century Anno Domini. Some learned scholars postulate that this date was selected to coincide with the pagan winter solstice convivialities, which were prevalent in numerous parts of the world during that era.
Throughout history, the celebration of Christmas has undergone a transformation, culminating in its pervasive observance worldwide, encompassing both religious and non-religious customs. Presently, it represents an occasion for individuals to convene with their loved ones, exchange presents, and indulge in ornate embellishments and culinary offerings. Despite its Christian inception, Christmas has burgeoned into a societal phenomenon that is observed by individuals of diverse beliefs and upbringings.
Are the neon signs safe to use?
Yes, our neon signs have been developed with a strong emphasis on safety. The implementation of LED lights in these signs ensures that they remain cool to the touch and do not emit any heat, thereby rendering them entirely safe for use in any room of your domicile.
How long do the neon signs last?
Our neon signage is crafted with a durability that can withstand up to 50,000 hours of continuous use, thereby securing its ability to illuminate your festive celebrations for a prolonged period.
Are the signs easy to install?
Yes, our neon signs are equipped with pre-drilled apertures to facilitate hanging. The sign can be affixed to the wall using either nails or screws, or alternatively, adhesive strips may be utilized for a more transient exhibit.
Can I customize the colors and design of my Christmas neon sign?
We provide an extensive selection of designs and hues for customers to choose from and are amenable to accepting original equipment manufacturer (OEM) requests. Learn more about our OEM
Can I dim the lights on my neon sign?
Yes, we provide a supplementary dimming alternative at an extra expense. Kindly reach out to our sales personnel to include this attribute to your purchase.
How do I clean my neon sign?
To maintain the integrity of your neon sign, it is advisable to utilize a gentle, non-abrasive cloth to remove any accumulated particles or extraneous matter. It is imperative to refrain from utilizing any cleaning agents or water in order to prevent any possible harm or degradation to the sign.
What is the size of the neon signs?
Our bespoke neon signage is capable of being customized to suit any desired dimensions, with an array of customizable options available for your perusal.